Description
| | | |
| --- | --- | --- |
| 1171000/ 1171010* | Multi Zone   30″   IP 55 | Gray |
The Multi Zone's twenty zones provide precise location of one or more objects simultaneously. Multiple targets are indicated on both walkthrough panels simultaneously via bright LED zone indicators.
PORTABLE PROTECTION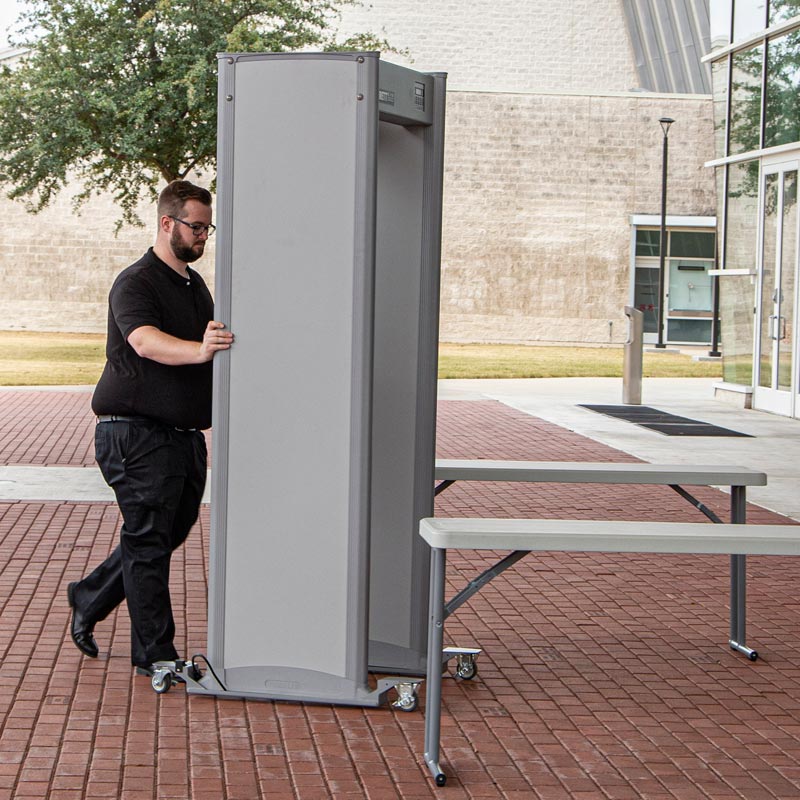 Fast, easy, versatile security.
Equipped with optional casters and battery module, the Multi Zone. can be rapidly deployed at special events, schools, and other large venues.
No wires to deal with. Easy to move to another location with a moment's notice.
Pictured: Multi Zone shown with optional casters and battery module
GARRETT WALK-THROUGH DETECTOR SPECS COMPARISON
Detection Zones
33 zones (left, right and center); visual and audible alarms with a built-in dry contact alarm relay
20 independent zones; visual and audible alarms
Multi-Unit Synchronization
Synchronization with wired AC power lines or with manual frequency selection for wireless operation
Synchronization with wired AC power lines or with manual frequency selection for wireless operation. Auto frequency scan for wireless operation
Visual Displays
LED zone indicator lights on both panels. Pace lights on entry side only, with intuitive images.
LED zone indicator lights on both panels. Status lights are individually configurable as pace lights, ready/alarm lights or disabled.
Access Control
Eight-button keypad with numerical codes. Keypad lock to control access and to enable/disable the keypad.
Ten-button operation with full alpha-numeric 5-digit access code. Enable and disable keypad function with a rocker switch locked inside the detector head.
Passageway Interior Size
Width 30″ (0.76 m)
Height 80″ (2.03 m)
Depth 23″ (0.58 m)(32" versions are also available)
Width 30″ (0.76 m)
Height 80″ (2.03 m)
Depth 23″ (0.58 m)(32" versions are also available)
Overall Exterior Size
Width 35″ (0.90 m)
Height 87″ (2.21 m)
Depth 23″ (0.58 m)
Width 35″ (0.90 m)
Height 87″ (2.21 m)
Depth 23″ (0.58 m)
Shipping Size
Width 35.5″ (0.90 m)
Height 91.5″ (2.32 m)
Depth 6.25″ (.16 m)
Width 35.5″ (.90 m)
Height 91.5″ (2.32 m)
Depth 6.25″ (.16 m)
Shipping Weight
165 lbs. (74 kg)
151 lbs. (68.5 kg)
Operating Temperatures
-4º F (-20º C) to +149º F (65º C); Humidity to 95% non-condensing.
-4º F (-20º C) to +140º F (60º C); Humidity to 95% non-condensing.
Power
Fully automatic 100 to 240 VAC, 50 or 60 Hertz, 45 watts; no rewiring, switching or adjustments needed.
Fully automatic 100 to 240 VAC, 50 or 60 Hertz, 40 watts; no rewiring, switching or adjustments needed. 1-hour backup battery included for the MultiZone.
Regulatory Information
Meets international airport standards such as TSA, ECAC, STAC, AENA, CJIAC, DFT. Meets additional standards and requirements such as USMS, NIJ-0601.02, NILECJ. Meets Electrical Safety and Compatibility Requirements for CE, FCC, CSA, IEC, ICNIRP, IEEE.
Meets Electrical Safety and Compatibility Requirements for CE, FCC, CSA, IEC, ICNIRP and IEEE. Additional certifications pending.
Weatherproofing
Meets IP 55, IP 65, IEC 529 Standard for moisture, foreign matter protection
Meets IP 55, IEC 529 Standard for moisture, foreign matter protection
Construction
Attractive scratch and mar-resistant laminate. Detection Heads and Support: heavy duty aluminum.
Attractive scratch and mar-resistant laminate. Detection Heads and Support: heavy duty aluminum.
Control Outputs
Solid state switches (low voltage AC or DC) for operating external alarms and control devices.
Optional Relay module connected via RS 485 cable provides NO/NC relay contact
(optional) Remote Control
Desktop Remote Control with Zone Indication; personal computer with wired or wireless iC Module; or IR remote
Desktop Remote Control with Zone Indication; personal computer with wired or wireless iC Module; or IR remote
(optional) Networking
Manage individual or groups of walkthroughs and perform statistical analysis of throughput with wired or wireless iC Module and client software.
Manage individual or groups of walkthroughs and perform statistical analysis of throughput with wired or wireless iC Module and client software.
Warranty
24 months, limited parts and labor
24 months, limited parts and labor
Shipping extra